The unspoilt  beach in front of the villa is clean and strewn with Almirikia – a type of tree – which grow right by the sand and pebbles.
Guests can feel  the soft touch of  the  breeze,  listen to the primordial sounds of nature and immerse themselves in the relaxing sound of the sea. They can enjoy the serenity, the privacy, the Mediterranean sun and the seaside which remains virgin and untouched by commercialism. They  have a choice of either enjoying a swim in the crystal clear sea or a dive into the private pools  of the villas. In these secluded surroundings they can replenish their energy and thus be able to communicate better and more intimately with themselves as well as their loved ones.
However the place of residence does not exclude entertainment. The well known Platanias, the center of Chania's night life for locals and vacationers caters to all tastes. Night clubs, restaurants, tavernas and a variety of stores for your shopping are  within reach, only ten kilometers away.
The small town of Tavronitis is just three kilometers from the villas. It is a small shopping area and it includes super markets, cafeterias, restaurants and a pharmacy. The river tavronitis flows by and finds its way to the sea. Here to there are small seaside tavernas that offer Greek cuisine at reasonable prices.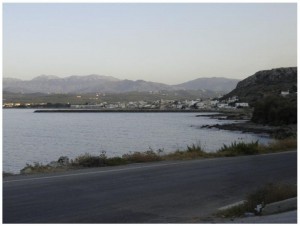 About two kilometers to the west is Colymbari, famous for its seafood tavernas, where you can savour fresh fish and other seafood.
It is really worth paying homage to the monastery "Lady of Angels" of gonia, one kilometer away, where you can admire the most beautiful icons, representative of the cretan school of iconography and attend a liturgy to hear authentic byzantine music.  There is also the orthodox academy and housed in its courtyard  is the botanical museum.
It is really worth making the effort to climb the nearby hill to see the monument dedicated to the reserve officers, who died in WWII. From there you can admire the view of the boundless blue of the sky and the sea and experience the colorful splendour of sunset.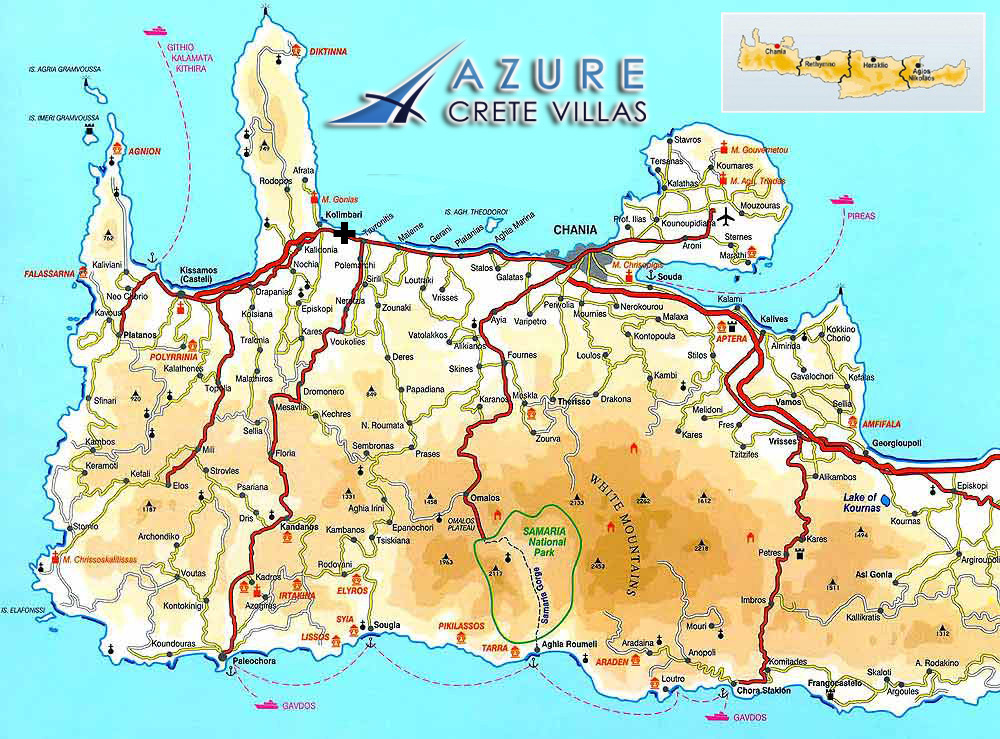 DISTANCES
Village : 400 m
Chania airport : 40 km
Heraclion airport : 170 km
Chania port :  29 km
Hospital : 22 km
Pharmacy : 1,5 km
Sea shore : at the sea shore
Stores :  (mini market )  250 m
Bus stop : 300 m
Car rental office : 250m
Restaurants: 300-350 m